Visit Bogota – 6 Things you need to know before travel
Carved between the mountains and trapped in the middle of the country, this is the biggest city in Colombia. This chest of so many past treasures is the stage for 7 millions of Bogotanos who welcome visitors from all over the world. If you are planning to add Bogota on your itinerary or is visiting the city for just a day. Check out this list of things you need to know before going.
1- Safety in Bogota
Bogota is a long way from the war scenario of the 90s. Not that the war against militias and drug trafficking is over. It just isn't made of bullets and explosions anymore. Even so, better be safe than sorry, it is quite common to see the army doing their rounds and patrolling the areas which give access to the richest neighborhoods of the city. Locals don't seem to care anymore, they see the army like a police force. For the ones visiting Bogota for the first time, it is quite impactful.
2 – The traffic chaos
Tokota [CC BY 3.0], via Wikimedia Commons
This seems to be an endless problem. The supply of public and private transport does not seem to handle the demand. This results in stressful traffic, crowded buses that have little respect for punctuality and crumbling taxis.
Speaking of taxis, ignore them completely. Drivers are extremely arrogant, especially with visitors, they charge values above the meter, and some times do not even turn it on.
This unfortunate behavior has earned them the reputation of Bogota's number one enemy and justifies the success of Uber and the likes in the city. When visiting bogotá, void taxis like the plague. Go for an Uber and use the front seat. Your first trip is on us.
3 – How to locate in Bogota
It's funny how in some parts of the world people tend to ignore the cardinal points in their daily lives. Possibly, the last time you needed to point east likely was to solve some school exams.
By contrast, for Colombians to indicate directions, "south or north are as normal as " turn the second left".
Bogotanos follow the direction of east and west, it can be confusing visitors but has its logic when looking closely.
Always taking as reference the Montserrat Mountains, the city is cut by Streets (calles), which always go towards the mountains (East-West), and the avenues (carreras) that cross the streets and are parallel to the mountains (North-South). If you want to understand in detail, watch these guys explanation:
The important and unusual part is the addresses. We are used to a street name, house number, and zip code. The order may vary, but the information is usually the same.
In Bogota, the addresses are like Cra 6a, #10-20. Translating, the place is on Carrera 6th, after Calle #10 and the house number is 20. Another example, Calle 13, # 42-17. It's on Calle #13, after Carrera #42, the building number is the 17.
4 – Bogota's (okish) Food
We can agree on one thing. When a traveler things about good food, Bogota (and of Colombia in general) is not too high on the charts. Truth be told, they are very good at pastries and breakfasts. A brunch in Bogotá is a must.  However, the other meals of the day are not very amusing.
Personally, it's one of my least favorite cuisines (saved by the creole potatoes). But to my surprise, Bogotans know how to appreciate the finer things in life and for lack of a local flavor they appeal to foreign cuisine.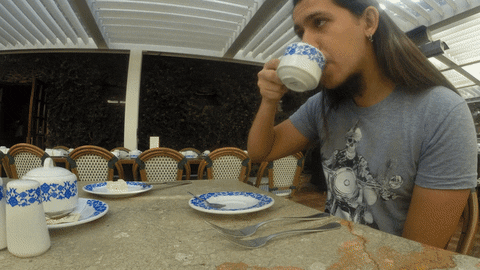 Hot chocolate with cheese? They got that.
Bogota has been striving to be recognized as an international gastronomic hub, with a wide variety of restaurants spread throughout the city.
From handmade hamburgers to the authentic Italian canteens, not to mention the Arab and Mediterranean cuisine. If you need some inspiration to eat, a walk through Zone G will leave you salivating. When visiting Bogota, taste a bit of the world.
5 – Refresh yourself with a Colombiana
Here's something I love about this country. I'm not just talking about Shakira, but this tasty elixir that claims to have Colombia's flavor. This soda is very tasty and can be found everywhere. If we compare, Colombiana is Colombia version of Peru's Inca Kola. The taste is very unique and you have to try it.
Going beyond, they had the great idea to mix 1 serving of Colombiana with 2 servings of light blond beer to form the so-called Refajo. You got to order on your next visit to Bogota.
6 – Bring your jacket
I have been to Bogota 3 times at different seasons and have always surprised me two things. First, the temperatures between around the year are very similar and never catch a day over 20 ° C. Second, the weather can be really unpredictable.
In Bogota it is cold and the temperature can fluctuate a lot. When visiting the city, don't get caught off guard, remember granny's advice and put on a blouse.
Now you should be a little more prepared to face this city. If you have more time during your trip, check out Villa de Leyva. A gem I found in Colombia's countryside, is very worthwhile.